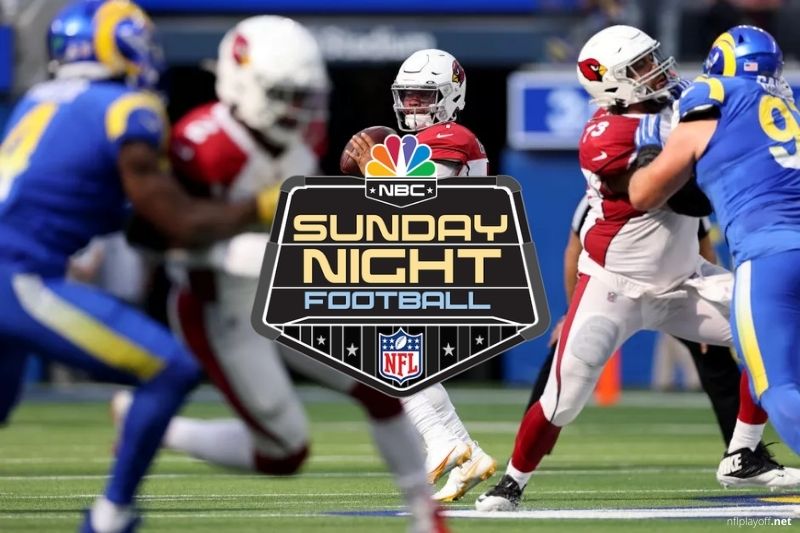 NFL Football is finally back with the new 2021/22 season. There are many options for streaming live NFL games for NFL fans all over the world. But someone would ask how to watch the NFL regular-season games. Usually, the NFL games are aired on different channels in four categories: Thursday Night Football, Sunday Afternoons, Sunday Night Football, and Monday Night Football. This article will provide you with detailed information on how to watch Sunday Night Football.
Sunday Night Football
Usually, the NFL league will be airing the Sunday Night Football 2021/22 NFL season games on the NBC network. Therefore, to catch these games live, you have to access the NBC network, NBC Sunday Night Football (SNF).
How to watch Sunday Night Football on NBC?
NBC provides two great options to catch live Sunday Night NFL games: NBCSports.com and NBC Sports App, for Android and IOS devices. These two platforms provide you with all the information about SNF, including teams, start times, live streams, matchups, channels, and more. However, NBC restricts you from streaming SNF games from outside the US. But, this shouldn't worry you because there are ways of bypassing the geo-restrictions by NBC using VPN.
To officially stream live SNF games, you will require to have a satellite or cable subscription. This is the easiest and most reliable way to catch the best quality live streams directly from NBC, via the TV Anywhere. To watch the SNF games using this program, you require to enter both the username and the password for your TV provider either on the NBC web or the NBC Sports App.
Apart from the official way of watching live SNF games, there are other streaming options that include the NBC network in their packages, for instance, Fubo TV, Sling TV, Hulu, among others. However, streaming on these streaming services is subject to location restrictions and blackouts.
Steps of how to stream SNF online via the NBC web
This is only applicable for individuals with a qualified cable or satellite subscription.
Using your favorite browser, enter nbcsports.com/sunday-night-football.
Select your television provider. In case your provider is missing, type on the search box and enter. Note some streaming services are compatible with the TV Anywhere program.
Click on your provider and enter your cable or satellite provider details: username and password.
Click login.
In case your subscription plan is valid, then you should be able to stream during any game day.
Steps of how to stream SNF via the NBC Sports App.
This also requires a valid subscription.
Using your phone, download the NBC Sports app and install it.
Launch the app.
Touch the hamburger menu.
Touch "Sign In" and then touch "Select Provider".
Select your provider, and tap "Continue".
Confirm that you are logged in on the top right corner, you should see your provider. Now you can watch any SNF during any match day.
How to watch Sunday Night Football without cable?
Despite not having a cable or satellite subscription, or rather a valid subscription, doesn't mean that you can't stream Sunday Night Football. This is the best option for cord-cutters and a cheaper option than the cable subscription. There are several streaming services that offer NBC network as well as other NFL streaming networks on their lineup. These services allow you to live stream without having a cable subscription, however, the games are subject to blackouts.
Sling TV
Sling TV offers two plans for NFL coverage: Orange and Blue plans, each at $30 per month. To stream SNF, you need to have either the Blue plan or both combined for $45 per month. You can access Sling TV on your smartphone, game consoles, and streaming devices.
FuboTV
FuboTV provides complete NFL coverage including NBC, via the FuboTV Family plan package at $59.99 per month. This package allows you to stream all the SNF games as well as other NFL games. You can access FuboTV on your smartphone, game consoles, and streaming devices.
Hulu
Hulu + Live TV also provides full NFL coverage, consisting of NBC, FOX, CBS, and ESPN channels. This package goes for $59.99 per month. With this package, you will enjoy all the SNF games on your phone, laptop, and more.
YouTube TV
YouTube TV also allows cord-cutters to stream the SNF games. This streaming service offers a monthly package for NFL coverage at $64.99. The package lineup includes NBC, ESPN, CBS, and FOX.
AT&T TV
AT&T TV offers a monthly streaming package at $55, for NFL coverage in the following channels: CBS, FOX, ESPN, ABC, and NBC. Having NBC in the lineup means that you are capable of watching all the SNF games. You can access AT&T TV on your smartphone, game consoles, and streaming devices.
How to bypass NBC blackout with a VPN
Find a high-speed VPN with available server locations outside the blackout regions.
Download, install, and launch the VPN on your device.
Choose a server located outside the blackout regions.
Go to the NBC web.
Verify and choose your provider.
Log in and enjoy the game.
In conclusion, the above article has provided you with all the information that you require to stream the Sunday Night Football games, with and without a cable subscription, as well as during blackouts.